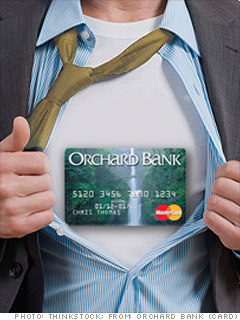 Send in one application to Orchard Bank, a subsidiary of HSBC, and you'll be considered for four different cards. Based on your credit, you may be offered one of three unsecured credit cards or a secured card.
Orchard Bank's unsecured credit cards come with annual fees ranging from $39 to $59, depending on your credit history, and APRs ranging from 14.99% to 24.99%.
If you don't qualify for an unsecured card, you'll likely qualify for a secured card. Secured cards work like regular credit cards, but require a deposit of your own money into the account. As a result, these cards typically offer lower interest rates than regular unsecured credit cards, and your spending limit is the amount of money you deposit.
Orchard Bank's secured card requires you to make a $200 minimum security deposit, and the APR is a low 7.99%. There's also a $35 annual fee that's waived the first year.
While the fees may sound high, they're pretty standard for the subprime category, said Josh Heckathorn, president of credit card website CreditNet.com. Plus, cardholders should only use these cards for 6 to 12 months as a way to improve their credit, he said. So the fees shouldn't really add up too much.
"While it might be a bit painful to pay an annual fee... it's a small price to pay for the opportunity to build positive payment history again and watch your FICO scores start to rise," said Heckathorn.
Another perk: Typically, applying for a credit card knocks your credit score down slightly. But Orchard Bank has a pre-qualification process so you can qualify for the card you want before you need to complete the final application and take a hit to your score.