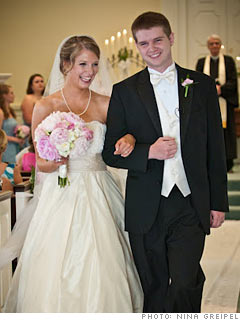 Married: June 12, 2011
Debt at marriage: $40,000
Debt now: $20,000
Thomas and Meredith Brown, 26 and 24, were already in debt when they decided to get hitched last year, so they had to take out an $8,000 loan to afford the wedding.
Everything, including the tuxedo rental, the caterer, the decorations and the fabric for her wedding dress -- which her mother-in-law made for her -- was paid for with borrowed money.
Now, one year after their nuptials, they've managed to pay that loan off -- thanks to the money they received from wedding guests. They also paid back a $15,000 car loan. But they are still left with $20,000 in student loans.
To whittle away at this remaining debt, the Browns have put together a budget -- and they've cut back.
While they used to spend around $75 a night on dates -- going to nice dinners, ballets, musicals and movies -- they now look for free, or at least cheap, ways to have fun like going on picnics or volunteering.
"I think it's more fun when we go on a date for next to nothing, because we both get really excited that we didn't spend the $75 we would have otherwise," said Meredith.
While the couple has had the occasional disagreement about how much money should be going toward debt versus the family emergency fund, they said that overall, dealing with their finances together has brought them closer together.
"I think it has absolutely strengthened our relationship," said Meredith. "We know many couples who don't discuss finances and we know couples who were very much in debt and are now having very serious problems, so talking about it and paying it back together makes me feel very secure and excited about what we will be able to do in the future because we are living more frugally now."