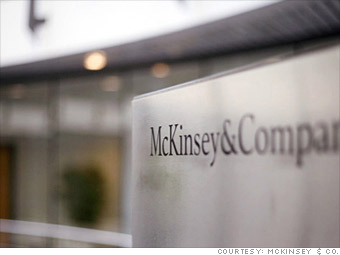 % of MBAs who want to work there:
17.76%
Headquarters:
New York, NY

A perennial top 5 winner on this list, McKinsey is highly sought after by MBAs with an eye on the corner office. Alumni of this consulting powerhouse, known simply as "The Firm," include Louisiana Gov. Bobby Jindal and IBM turnaround man Lou Gerstner.
Legendary for its deep client relationships, McKinsey has been called to advise presidents, industry leaders and some of the world's most influential businesses. Even presidential hopeful Mitt Romney says he would consider hiring McKinsey if he wins the election.
MBAs who get hired "can expect to work on challenging and important issues for an array of leading organizations and institutions in the private, public and social sectors," says Brian Rolfes, a Toronto-based partner and director of global recruiting.
What they're looking for: McKinsey seeks out exceptional talent, but "there is no McKinsey 'type,' " says Rolfes. "Our culture is defined by the diversity of our people and the strength of our values."
The firm looks for high achievers with growth potential in four key areas: problem solving, determination, personal impact and leadership, he notes.

Hiring plans: The tight-lipped firm doesn't disclose hiring numbers, but Rolfes says the firm is always on the lookout for exceptional candidates worldwide.

Did you know? McKinsey is often commended for the flexibility it offers working mothers. Under its Mother's Network program, consultants going on and returning from maternity leave have a dedicated point person in their office who can provide coaching and advice.