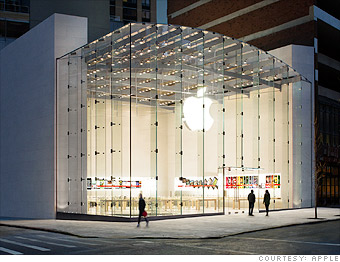 % of MBAs who want to work there:
16.66%
Headquarters:
Cupertino, CA

The mighty iEconomy keeps powering Apple to new heights. The tech giant's valuation reached the half-trillion milestone early this year, and this year it's on track to surpass Hewlett-Packard as the biggest tech firm by sales.
MBAs work on the company's strategic business initiatives across a number of divisions, from real estate development and design to finance and merchandising.
What they're looking for: Apple wants people who are passionate about its products -- and that means more than not being able to live without your iPhone. Having a strong understanding of consumer products and being obsessive about detail also are key.

Getting hired: A good way to get in is through Apple's MBA intern program. The company recruits at leading B-schools, including Harvard, Chicago and Duke's Fuqua School of Business, where CEO Tim Cook earned his MBA.
Apple's explosive growth over the last decade has led to a ramp-up in overall hiring, and a push to recruit more MBAs appears to be one of the ways Cook is changing the company post-Steve Jobs. Indeed, Fortune found that more than half of employees who reference the term "MBA" in their LinkedIn profiles have been at Apple less than two years.

Did you know? At Apple University, an "education initiative" headed by former Yale School of Management dean Joel Podolny, top-level executives are said to teach up-and-coming leaders using case studies from the company's key decision-making moments.