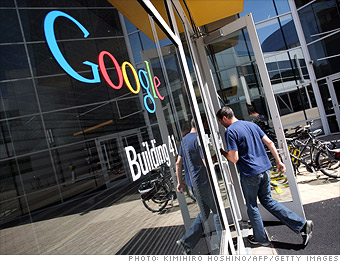 % of MBAs who want to work there:
25.35%
Headquarters:
Mountain View, CA

The opportunity to "do cool things that matter" keeps drawing MBA students to Google. The Internet giant tops the list for the sixth year running.
Google sets the bar when it comes to lavish company perks (nap pod, anyone?), but what really has students knocking down the company's doors is the chance to solve real-world problems that have a global impact.
"At Google you don't go into one little box where you're going to be restricted. Any role has touchpoints and you're constantly getting to expand your knowledge and skill set," says Hannah Mestel, who oversees MBA and graduate student intern programs at Google.
What they're looking for: Strong problem solvers and generalists who are able to navigate through ambiguity make great Googlers, Mestel says. "Our business is changing all the time. It's important people are flexible because chances are they're going to be working on something different."

Hiring plans: Google has been aggressively adding to its ranks as it's matured. The company's full-time employee base grew 33 percent last year, with big gains in sales and marketing, and operations positions.
The tech giant doesn't issue staffing projections, but it's "hiring a lot," Mestel says. More than 100 MBA interns in North America are working at the Googleplex this year.

Did you know? In a bid to optimize its recruitment process, Google has started conducting some interviews for its MBA program via Google Hangouts and will likely keep doing so, Mestel says.