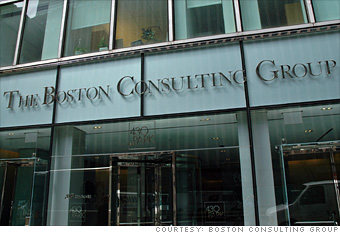 % of MBAs who want to work there:
12.87%
Headquarters:
Boston, MA

The global consultancy invests in its employees and compensates them well -- no wonder then it ranked No. 2 on Fortune's Best Companies To Work For list this year. But it's the opportunity to make a difference that truly attracts business school graduates.
"Millennials really want to have an impact, and at BCG they do," says Jennifer Comparoni, who heads recruiting for the firm in the Americas. Consultants get to tackle "once-in-a career type problems with our clients."
Many consultants find the work so engaging that they end up staying longer than originally planned, says Comparoni, adding: "Retention is quite high at BCG compared to typical professional service industries."
What they're looking for: "Being able to dig in and solve problems and having a track record of impact is important," Comparoni says. The firm seeks great leaders, but also keeps an eye on how well candidates collaborate with others.

Hiring plans: BCG doesn't disclose hiring numbers but the consultancy has posted double-digit growth for many years. "Our MBA hiring is definitely up," Comparoni says.
The company actively recruits from the top 20 to 25 B-schools.

Did you know? Outstanding performers at the firm are eligible to apply for the Ambassador program, which allows consultants to transfer to an office of their choosing for an extended period, typically 12 months.