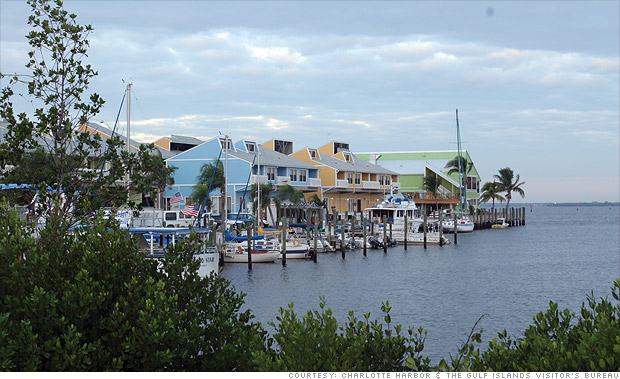 Median home price: $124,000
Punta Gorda's housing market has two huge factors working in its favor: very low home prices and extremely nice backyards.
"Prices have come down so low that it's attracting retirees and second home buyers," said Mark Martella, president of the Charlotte County Chamber of Commerce.
The median price paid for a home in the metro area during the three months ended September, 2011 was $93,000, according to the National Association of Home Builders.
Many of the homes sit canal-side and have docks in their backyards. Homeowners can jump in their boats and be in the Gulf of Mexico in a matter of minutes. A well-maintained, three-bedroom, two-bath house like that can run as little $175,000 or even less, said Martella.
Maintenance costs, especially property taxes, are low as well. Martella, who is originally from New Jersey, said he pays a quarter as much in Punta Gorda for four times as much house.
Realtor.com said Punta Gorda squeaked into its top 10 on the strength of its inventory decline: There are 29% fewer homes for sale than there were a year ago.
As a result, buyers should experience significant home price appreciation over the next five years, more than 6% a year on average, according to Fiserv.