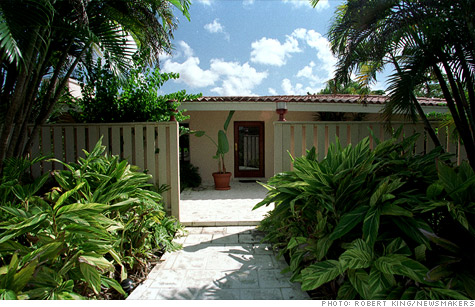 NEW YORK (CNNMoney) -- As if being in prison wasn't bad enough. O.J. Simpson's life has taken another sour turn: He's now facing foreclosure on his Kendall, Fla. home.
Simpson's mortgage lender, JP Morgan Chase (JPM, Fortune 500), initially filed its intention to foreclose on the former football star's four-bedroom, 4,000-square-foot home in September, according to court records from the Miami-Dade County Clerk's office.
Simpson's attorney, Leonardo Starke, filed a motion to dismiss the foreclosure filing in November. But, according to a person familiar with the matter, the bank is moving forward with its legal proceedings.
Starke did not return messages seeking comment.
Simpson, who is serving a prison sentence of up to 33 years for a 2007 armed robbery and kidnapping in Nevada, has not made a mortgage payment since 2010, according to the source.
Simpson paid $575,000 in 2000 for the house, getting a first and second mortgage to pay for it, according to public records. He refinanced both loans in 2003 with a $592,000 loan through Washington Mutual, the savings and loan that was later aquired by Chase.
Since the house now has an assessed worth of $478,401, according to county records, and he now owes more than $700,000, including penalties and fees, according to the source, Simpson might want to walk away from the home.
Simpson was acquitted of the 1994 murder of his wife Nicole Brown Simpson and her friend Ronald Goldman in 1995, but still owes some $33.5 million to the Goldman estate, a sum won in a civil judgment brought against Simpson by Fred Goldman, Ron's father.
Other than the motion to dismiss, Simpson does not seem to have taken any other steps to keep the home.
In Florida, lenders must offer borrowers in default the chance to save their homes through a Residential Mortgage Foreclosure Mediation Program but, Simpson was unable to attend the mediation. As court records state, there was "borrower non-participation with RMMP."