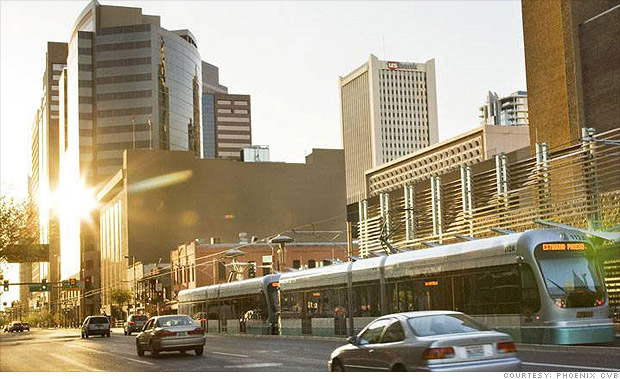 Median home price: $129,000
After five years of a brutal post-bubble price correction, Phoenix is rising from the dead.
"We have jobs," said Tanya Marchiol of Team Investments, a local real estate investing firm. "Not a lot of big markets like us that went through the bubble have so many jobs."
The unemployment rate in the metro area fell to 7.7% in November, a 1.1 percentage point improvement from 2010 and better than the national rate of 8.2%.
Home sales have been picking up, thanks to rock-bottom foreclosure bargains. During the fourth quarter, homes sold 27% faster than they did during the same period in 2010, according to Realtor.com.
A four-bedroom, two-bath house in good condition is currently listed for under $80,000, a significant discount from the $200,000 or so it would have fetched during the 2006 peak, said Marchiol.
Even with sales volume and home prices solidifying, Phoenix buyers are not likely to become overnight real estate millionaires. Over the next five years, forecasting firm Fiserv expects local prices to rise at a steady but paltry 2.4% annual average rate.