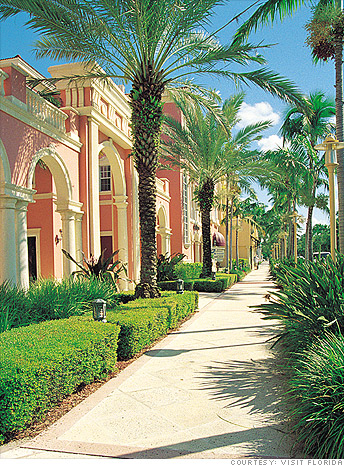 Median home price: $218,000
Naples' economy depends heavily on tourism and real estate development, both of which have taken a hit thanks to the recession and the Gulf oil spill during the summer of 2010.
"It didn't affect us but people shied away from all of the Gulf Coast," said Jack Wert of the local convention and visitor's bureau.
The tourists have finally returned, however. Visitor numbers rose 7.7% in 2011 compared with 2010 and they are spending more. "We are getting feedback from the hotels that they're hiring folks back who were laid off in the summer of 2010," said Wert. Jobs have been added at restaurants, shops and at area attractions, too.
Custom home building in Naples is also staging a modest revival, according to Tuccillo.
All of this has amounted to a boost in jobs. Naples' unemployment rate, while still high, fell 2.3 percentage points year-over-year to 10% in November.
The better jobs picture has helped stabilize home prices, which are among the highest in Florida. The median price of homes sold during the third quarter of 2011 was about $185,000, 53% below the peak set in late 2007, according to the National Association of Home Builders.
Look for prices to improve modestly over the next five years, according to Fiserv, averaging a little over 1% a year.