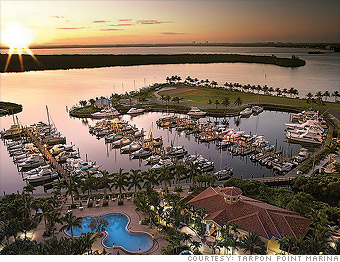 Population: 530,920
Growth (2000-2010): 60.8%
The first family to live in Cape Coral didn't move in until June 1958, and growth has been meteoric ever since.
Leonard and Jack Rosen bought a 103-square mile piece of land on Florida's Gulf Coast in 1957 and started selling lots for $10 down and $10 a month. They eventually sold about 350,000 lots, according to the County Clerk's office.
During the 2000's housing boom, "Cape Coral was growing like a house afire," said Dana Brunett, the economic developer for the city.
The area's biggest attractions: the weather and the water, said Coldwell Banker real estate agent Susan Ball. There are more than 400 miles of canals in the city, giving plenty of residents the opportunity to live right on the water.
And homes are extremely affordable. "There's no place you can live as inexpensively on the water as in southwest Florida," said Ball. That's especially true lately, with the median price of a home in the area at $105,000, down from the peak of $266,000 in 2006.
As a result, many future retirees are taking advantage of the bargain prices and buying early, according to Ball. They'll continue working for a few years before relocating.
"These folks are allowing renters to cover maintenance expenses and taxes, while they build equity in their retirement home," she said.