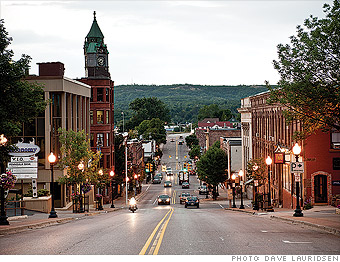 Population: 21,400
% over 50: 30%
Median home price: $145,000
Top state income tax: 4.35%*
Cost of living index: 95
As lovely as it sounds to sip margaritas on the beach, doing it year round can get old. This picturesque town on Michigan's Upper Peninsula offers outdoor fun for all seasons. With an average of 141 inches of snow a year, there's plenty of the white stuff for cross-country skiing and other winter sports. In summer, you can grab a kayak and start paddling on Lake Superior.
And when outdoor activities grow tiresome, you can count your savings. A new three-bedroom townhouse with panoramic lake views recently sold for about $375,000. That's more than twice the price of the typical home here -- but 30% less than a similar property might have cost near Seattle.
There's also plenty of low-cost and free activities. Retirees can take advantage of a wealth of offerings at Northern Michigan University in town. People 62 or older can attend classes free, and the affiliated Northern Center for Lifelong Learning offers low-cost diversions, from bird watching to dinner clubs.
If all that excitement causes heart palpitations, you're in the right place: Thomson Reuters ranks Marquette General Health System among the nation's top 50 cardiovascular hospitals.
See complete data and interactive map for Marquette