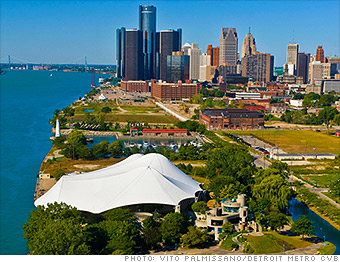 Median home price in 2012: $78,000
Projected home price in 2015: $93,982
Projected annual rent in 2015: $9,016
It's hard to imagine that home prices could get any cheaper in Detroit.
Hit hard by the auto industry's financial troubles and the housing bust, median home prices in the area have been cut almost in half to $78,000 from a 2004 high of $157,000, according to the National Association of Home Builders (NAHB).
And with rents on the rise -- up 5% over the past 12 months, according to Rent Jungle -- these beaten down home prices have created a nice opportunity for investors.
Even better, renters' incomes have become more stable. The auto industry has started down the road to recovery, giving a nice boost to the local economy. The metro area unemployment rate has fallen by 2.4 percentage points over the 12 months ended in April to 8.7%.
Winzer figures investors will earn 4.6-percentage-point higher return than the national average over the next three years.