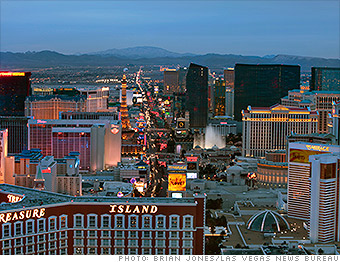 Median home price in 2012: $122,000
Projected home price in 2015: $121,087
Projected annual rent in 2015: $12,829
Ever thought about becoming a landlord? Now might just be the perfect time, especially if you're looking at a real estate market like Las Vegas.
Home prices in Sin City are still greatly depressed -- down 62% from the 2006 peak, according to the S&P/Case-Shiller home price index -- making for some great bargains for investors. Meanwhile, rents continue to climb, according to a recent report from HomeVestors based on analysis by Local Market Monitor.
Of the 316 markets Local Market Monitor reviewed, Las Vegas ranked number one based on estimated returns on investment for single-family rental properties.
Cities were ranked by estimated future returns investors can expect when they buy single-family homes and rent them out. According to Local Market Monitor's data, for example, investors in Las Vegas will have a 5.6 percentage-point higher return on a rental property than the national average of 5%.
But there are risks with investing in cities like Vegas. The markets with the highest ratings are typically those where home prices have plunged the most, said Ingo Winzer, founder of Local Market Monitor.
And in Vegas, investors are buying up so many properties and turning them into rental properties that there is a glut in supply, said Winzer. In some cases, that could make it hard to find tenants. And letting a property sit vacant could take a big bite out of profits since an empty place can pile up expenses quickly, he said.