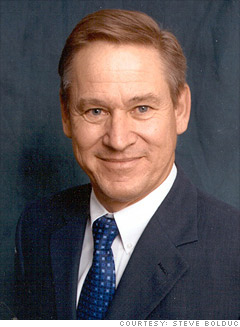 Name: Steve Bolduc
Age: 60
Home town: Phoenix, Ariz.
Three years ago, Steve Bolduc was a project manager at Stanley Consultants, a global engineering consulting firm. At the time, he was working 50-plus hours a week and most weekends. Then he made a change he had long thought about: With the approval of his managers, he began teaching colleagues how to take on some of his duties. He also changed his position, working 22 hours a week as a co-manager on traffic engineering highway design projects.
Bolduc says the move has made him a good mentor to younger colleagues. He also has more time to play golf and racquetball and be with his wife Mimi, a part-time high school guidance counselor, and the rest of his extended family.
"I was a workaholic my whole life," he says. "Now I have much more balance."