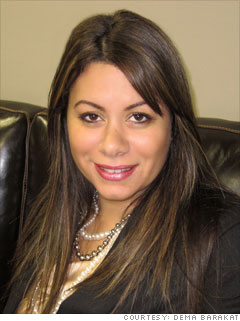 Owner: Dema Barakat
Location: Downers Grove, Ill.
Annual revenue: $5 million
Velocity Merchant Services is a credit-card processing company. We have 72 employees and are looking to hire 45 to 50 salespeople.
But we are finding people don't even show up for the interview. Or people come for the training, but don't stay for the job.
We hosted a job fair where we hired 40 people. Twenty-five showed up for training. Only two lasted more than a couple of weeks. People work for three months and get themselves fired so they can collect unemployment for another year.
We have learned to document everything we do with an employee. We've become sticklers for regulation. Finally, we hired an inside recruiter and created surveys designed to discover who is truly serious about working.
We've raised wages from $12 per hour to between $15 and $18 per hour plus commission, meaning a salesperson starts between $24,000 and $38,000. An employee can make up to $80,000. We've found people do work harder for more money. But their training, which used to take 30 days, now requires 90 in order to prepare them to make the higher numbers. Training costs money.
We bought a 30,000-square-foot building planning to triple the size of the business. But we can't find the employees, meaning our already low profit margins are flat. We should have revenues of $10 million to $15 million, but the numbers aren't there. As a business owner, I need to be optimistic, but we have problems to overcome.