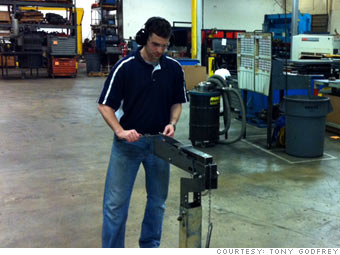 From an early age I liked playing with cars and trucks, and seeing how things worked. Just the other day my parents handed me a folder with lots of stuff from my childhood -- pictures, kindergarten forms. One question on that form asked what my favorite toy was. It said one word: trucks.
I became the "fixer" around the house by the time I was eight. I went to Georgia Institute of Technology and gravitated toward mechanical engineering. After I graduated in 2000, I had an offer to move to Detroit and work for an auto company. But I decided to stay in Atlanta, close to my family.
I had three different jobs in manufacturing before I went back to school to get my MBA. I became a manager at another manufacturer after that, but I missed my engineering roots. At Phoenix Stamping I do a mix of everything. I handle customer complaints, but I also weigh in on design engineering.
Manufacturing is my passion. Had engineering school not worked out for me, I would have become a mechanic. I love working with my hands.
If people have the aptitude for it, they should definitely think about a manufacturing career. I have a five-year-old daughter. I would encourage her if it's what she wants to do.
My manufacturing career has taught me one other thing. If you don't love it, find something else because you won't get that satisfaction of getting the job done right. And I love that feeling.