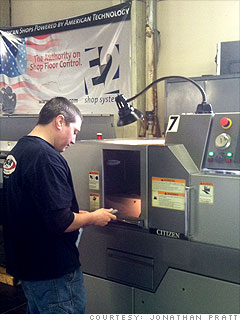 I didn't have a lot of job options after I graduated from high school. I started doing sales for a carpet seller.
I stayed with that company for about seven years. But I really wanted to get out of sales and do a hands-on kind of job. Two years ago, I found a job with a local manufacturer that makes industrial molds. That's where I learned about machining and all kinds of manufacturing work. I really liked it, but the pay wasn't great.
I was constantly looking for something else. A friend of mine told me that W.H. Bagshaw was hiring. They're the oldest pin makers in America. I took my resume there and they hired me last summer. I'm a lucky guy.
I'm a fast learner. I picked up newer manufacturing techniques quickly. I am learning new things every day. I think I can move up the ranks here and make more money.
Manufacturing is my lifetime career. There's always going be a manufacturing job out there for me. I know my skills are in high demand.
We need more Americans on board with manufacturing. It's steady and stable work. I really hope people grasp that and that Made in USA flourishes again.