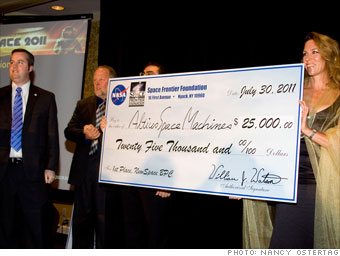 Prize: $100,000
Last day to enter: April 30
This competition, which is headquartered in Mountain View, Calif., assists new startups and expanding firms that can demonstrate profitability and advance the NewSpace movement, which is the commercial development of space.
Ten finalists will present their plans to a panel of judges, featuring venture capitalists, angel investors and business development leaders. The businesses will receive feedback and exposure to the public, press and investors.
Altius Space Machines, which won last year, is a Louisville, Colo.-based space technology company that has developed a robotic arm and an adhesive that sticks to anything in space.
This technology is expected to help satellite servicing, as well as space debris removal.
The company used its prize money of $25,000 to file a patent and expand its business.
Eligibility: Startup or early-growth firms focused on building or helping entrepreneurial ventures in outer space are welcomed. Applicants must be able to explain why their product or service helps with the economic development of outer space. Entries must have at least 51% U.S.-citizen ownership to qualify.