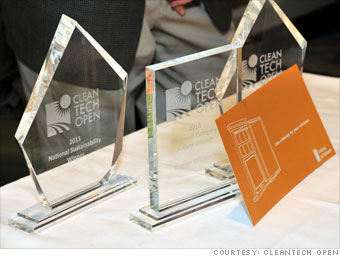 Prize: Up to $100,000
Last day to enter: May 8
The Redwood City, Calif.-based Cleantech Open is an organization that runs the world's largest accelerator. The accelerator helps entrepreneurs find, fund, and foster ideas addressing urgent energy, environmental and economic challenges.
EarthClean, which was a national runner-up in 2010, invented a water enhancer called TetraKO that helps firefighters. Three months after placing third in the 2011 Cleantech Open business competition, EarthClean secured $1 million in funding.
Eligibility: Entrants must fit one of the competition's six cleantech categories: air, water and waste; energy efficiency; green building; renewable energy; smart power, green grid and energy storage; and transportation. Must be a startup with less than $1 million from private third-party funding or $5 million from all other sources of funding.
Teams must have a minimum of two people with at least one team member being a United States resident, citizen, or legal alien.