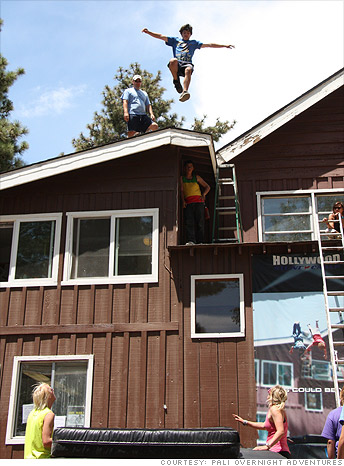 Ages: 9 to 16
Cost: $1,692 to $6,925
Duration: One to four weeks; June 19 to August 20
Forget lazy swimming in a lake, or a gentle horseback ride down a sleepy trail. This camp in Running Springs, Calif., offers 16 innovative programs for creative and high-energy kids.
"Teenagers are highly individualized in their interests," said Andy Wexler, founder of Pali Overnight Adventures. "It makes no sense to send them to a camp where everyone does the same activity each day."
Campers choose from programs that teach Hollywood stunts, gourmet cooking, broadcasting, motorsports and how to be a secret agent.
The newest program is aerial arts, modeled after entertainment company Cirque du Soleil, said Wexler, who started the camp in 2000. On Fridays, campers showcase their new skills, whether it's a dance or a fashion show or a movie they've created.
In addition to their main program, kids can also dabble in 50 other fun activities, such as archery, yoga, zip-lining, and water skiing.
The camp, which makes $10 million annually, has raised its prices between 3% and 5% over the last three years to offset rising business costs. Still, its enrollment is up 30% over last year, said Wexler.
"We have hundreds of kids coming from all over the United States but also from China, Mexico, Canada, France and India."