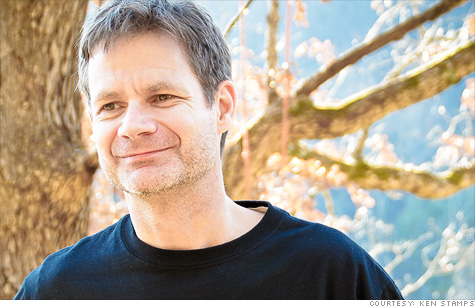 Ken Stamps celebrated with Champagne when his zip-lining tour company, Navitat Canopy Adventures, made a million dollars in revenue.
NEW YORK (CNNMoney) -- Ken Stamps spotted a business idea thousands of miles from his Michigan home, in rainforest-rich Costa Rica, where a popular tourist attraction sends travelers soaring through the treetops on a pulley.
"There are far fewer Costa Rica-type canopy tours in the U.S.," said Stamps. In contrast, most American zip-lining companies are at manmade attractions, such as theme parks or water parks and not in a tree canopy.
After 27 years in the architecture and engineering industry near Detroit, Stamps was hungry for a career change. In 2009, he launched -- with partners Sam and John Walker, a father-son team -- Navitat Canopy Adventures, a zip-lining-tour company in densely wooded areas it leases in Asheville, N.C.; and Wrightwood, Calif.
The company set up cables atop sloped areas of the woods. Participants are strapped into a harness that's attached to a pulley, then gravity sends them sailing among the treetops.
In October 2010, just six months after opening its first facility (242 acres in Asheville), Navitat passed over the $1 million in revenues mark. "We all celebrated," said Stamps. "We had a little Champagne." By the end of November, 16,000 guests had visited the Asheville facility. Last year, the number increased to 30,000, which included visitors to the Wrightwood, Calif., facility that opened in July.
Zip-lining tours are on the rise in the United States, with the first few arriving only a decade ago. "We were the first builder that I was aware of in 2002," said Dave Gustafson of EBL Canopy Tours -- which installed canopy lines until 2005 and now operates zip-lining tours in several U.S. cities.
"We believe there's about 250 courses in the U.S. and about 36 million zips were taken last year," Gustafson said. Familiar with Navitat, he praised the design, which was built by John Walker's other company, Bonsai Design.
"John tends to be an artistic, flair kind of guy," said Gustafson. "His courses are pretty."
Stamps' goal is to inject an eco-friendly aspect into the tours, such as schooling in local flora and fauna, to make these more than "thrill rides in the forest," he said.
Fueled by the vision of a gorgeous, conservation-minded course, Stamps and the Walkers put $1.5 million of their own money into the business. Still, there were challenges. The welcome center they designed from the ground up was too cramped to serve visitors' needs, and they were forced to expand it.
Another problem was underestimating how many employees they'd need to keep the courses running. Because of the highly specialized skill set, a lot of time, money and thought are put into staffing and training. Stamps will often look at competitors to find employees already familiar with zip-lining.
Training in groups of between eight and 10, potential employees complete 70 hours of required technical training, plus an additional 30 hours of interpretive training on local plant ecology, culture and history. Guides are then required to complete an additional four hours of technical and interpretive training each month they are on the job.
"If they didn't pass all of that training they aren't offered a job," said Stamps. Individuals who manage each location are treated as partners. There are about 40 guides at each location, in addition to managers and sales staff.
Turning to outside help was a lifesaver. An environmental-planning employee hired by Stamps helps design the courses -- making sure the environment does not get destroyed in the building process. The staffer also trains tour guides in interpreting flora and fauna. Wanting to offer a top-notch experience, the Walkers attended Disney Institute to learn how to replicate the storied Disney experience provided to guests at Walt Disney World.
Next, Navitat hopes to open a canopy tour in the Pacific Northwest and is putting the finishing touches on a facility to debut in the Poconos Mountains in Eastern Pennsylvania by April 1, 2013.