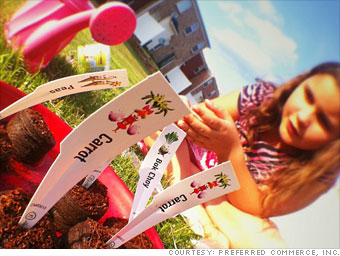 Location: West Palm Beach, FL.
Product: Kid-friendly vegetable garden kits
As a third-generation nurseryman who grew up gardening, Michael Ferraro well understood the connection between eating fresh fruits and vegetables and good health.
So it was ironic that he couldn't easily get his own two sons to eat their vegetables when they were growing up. That experience, and his concern about childhood obesity in the United States, inspired him to develop a gardening product that would introduce kids to fruits and vegetables in a fun way.
In 2010, Ferraro launched vegetable-growing kits for kids called Growums. The kits, priced at $9.99, come in six themes: Taco, Salad, Pizza, Ratatouille, Herb, and Stir Fry Garden.
Ferraro said he wanted the kits to be simple, so kids as young as five could use them. Each kit comes with a tray and eight planting pellets. Kids just add water to the middle of the tray and it speads evenly to the pellets.
Ferraro also created funny animated vegetable characters like "Tomicio" the tomato, "Belle Peppa" and "Elvis Parsley" that spring to life online when kids register their kits on the Growums website. The characters show kids how to tend to their kits, harvest the plants, and even cook the resulting produce.
More than 67,000 Growums kits have already been registered online, said Ferraro. They're sold in Lowe's and Wal-Mart stores and at fairs nationwide. He's also trying to get them into schools.
"One of my goals is to get five million kids growing vegetables and eating healthier," said Ferraro.