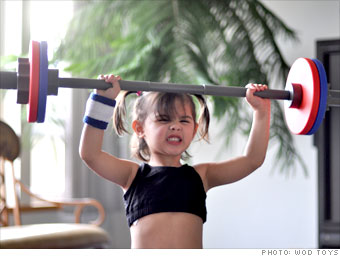 Location: Seattle, WA
Product: Fitness-inspired baby and toddler toys
Ernest Ebio and his wife, both fitness enthusiasts who love to hike and lift weights, didn't like leaving their 11-month-old daughter behind during their workouts. That frustration led to a business idea -- Ebio decided to create a line of kids' toys modeled after gym equipment.
Ebio partnered with his brother David Catanghal to launch WOD Toys, which produces kid-sized barbells, medicine balls, and even kettlebells for infants and toddlers. The toys weigh between half a pound and four pounds each and are made of materials like plastic, polyester and leather.
The toys are currently sold online, and Ebio hopes to get them into stores soon. All are priced under $60. After just six months in business, the company is doing $10,000 in monthly sales and orders are picking up, he said.
"Kids love to mimic their parents. My daughter can be with us [now] and have fun with these toys while mommy and daddy work out," said Ebio. "As she grows up, we hope she associates exercising with something fun and positive and develops a love for fitness."