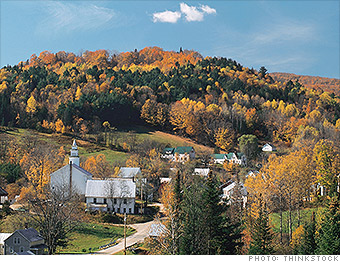 2011 startup rate: 390 per 100,000 adults
The joke is that when people come to Vermont on vacation, they don't want to leave. According to state legend, iconic IBM chief Tom Watson Jr. opened up a plant here because he loved skiing so much.
Today, IBM is one of the biggest employers in Vermont. Other notable companies include General Electric and Ben & Jerry's.
Smaller biotech, bioscience, environmental engineering and other tech companies are drawn to Vermont's vibrant venture capital network and state funding for startups. If Vermont has a downside, it's the high rates for individual income and businesses taxes.
Many innovative firms get their start in incubators based at the state's top-notch schools, like the University of Vermont's Fletcher Allen Medical School. Such academic powerhouses also help produce a highly skilled workforce for entrepreneurs to hire.
And when they need to take a break from business, entrepreneurs can let off steam at the the state's beautiful parks and hiking trails.