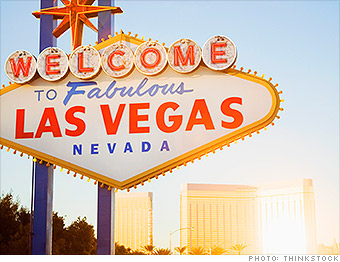 2011 startup rate: 390 per 100,000 adults
Watch out Silicon Valley: You have competition just next door.
The Nevada desert -- Las Vegas in particular -- is becoming a popular landing spot for tech firms large and small. Popular online shoe seller Zappos moved its headquarters and data center operator Switch Communications launched here.
Following in their footsteps are startups ranging from technology service providers to logistics companies that cater to retail, aerospace and defense companies.
Low taxes have helped make Nevada a haven for small businesses. The state has no business income, estate or franchise tax. Income taxes are low. Also, Nevada has more corporations -- about 325,000 in a state with just 2.5 million people -- than any other state except Delaware.
Need a business license? Nevada is streamlining its processes so would-be entrepreneurs will be able to get one in just a day, said Nevada's Secretary of State Ross Miller. The state is also enticing business owners with plans to launch a new online portal this year where they can collaborate, hold board meetings and finalize contracts virtually.
There is one obstacle for businesses. Some entrepreneurs complain that they can't find workers with the job skills they need, particularly in the fast-growing technology area.
"One of our bigger challenges is to develop a competitive workforce that meets the current needs of the market," said Miller, who thinks schools need to upgrade their students' tech skills. "There's very little technology transfer taking place in Nevada."