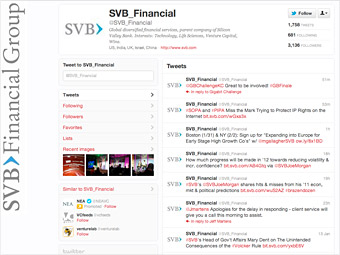 Best Companies rank: 40
Social media used: Twitter, LinkedIn, Facebook, Yammer, SlideShare, Plancast, YouTube, internal and external blog

While many financial firms approach social media gingerly due to regulatory and compliance concerns, SVB Financial takes an aggressive approach it says starts with a shift in management philosophy in the last several years. That means a robust presence on sites where members of the public and potential customers can post questions about finance, such as Quora and Proformative. SVB says that when it saw Quora take off, it appreciated that the people answering questions were known quantities -- real people with expertise as opposed to corporate spokespersons -- and empowered its managers to contribute. The company doesn't require any formal class for such participation, preferring to conduct training as needed on an individual basis. SVB says that its found employees will self-police and advise each other on responses that might venture out of line.