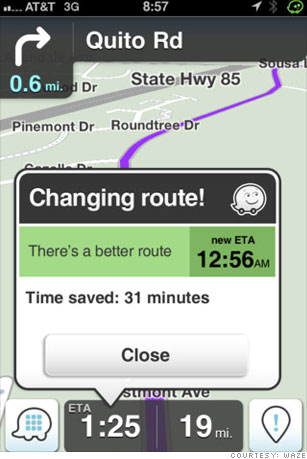 Startup: Waze
The details: Based in Palo Alto, Calif.; launched 2009
Their story: Waze is part GPS, part Siri, and part traffic reporter. When users enable app, available on iPhone and Android, it detects their speed and location. Waze crunches that information to generate warnings for other drivers if there's a slowdown or traffic jam. If you want to report an accident, simply wave your hand over the phone and speak to it.
Launched in 2009, Waze has drawn $67 million from investors, including VC powerhouse Kleiner Perkins.
Their goal: "If you can actually can use social media to do something that changes how people drive, then you're seeing a really important change," says Waze communications director Michal Habdank-Kolaczkowski. Ultimately, the crew hopes people will use the app to help each other save time and gas on the road.