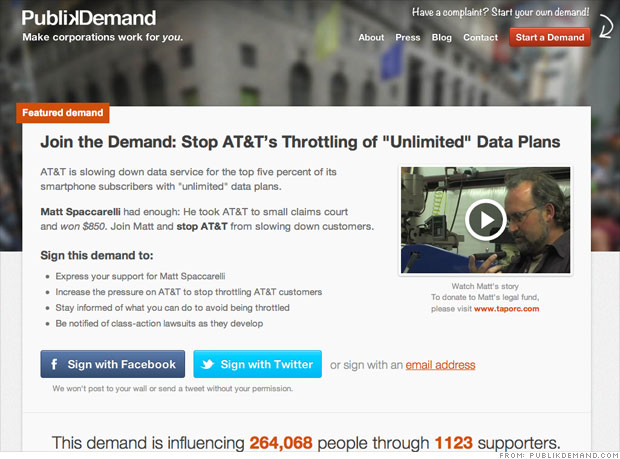 Startup: PublikDemand.com
The details: Based in San Francisco, 3 people
Their story: Founder Courtney Powell is a serial entrepreneur who had a rotten experience with Time Warner Cable. "They charged me for a modem that I never had and auto-drafted $900 out of my account," she says. "It took me three months to get it back." From that came PublikDemand, a complaints platform that aims to unite irked customers to collectively demand resolution to shared problems.
The fledgling site has one proof-of-concept demand featured at the moment, a request that AT&T stop throttling its "unlimited" data plans. Powell plans to expand significantly over the coming months, focusing exclusively on large, "Fortune 1000"-sized companies. "Long term, we'll be looking at things like integrations with Salesforce.com," she says. "We view it as a retention tool. If a company chooses not to change a policy, we'll help users move that set of business to their competitors."
What's next: Seed fund/incubator 500 Startups just took on PublikDemand.com, which is in the process of moving from Austin to San Francisco.