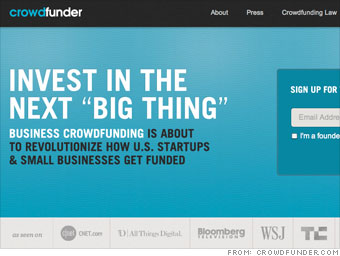 Crowdfunder has been an active backer of the JOBS Act, since its entire business model is illegal until the legislation kicks in.
Chance Barnett founded the company in November, immediately after the House passed its version of the bill. For months, Crowdfunder's site has essentially served as an explainer and advocate around the issue, featuring a petition and fighting words like "the government won't let you invest $100 in a small business you believe in."
Chance Barnett says he founded Crowdfunder in order to give startups more options. Backers can choose to invest for more than just straight equity -- they could also buy a cut of revenue based on time or percentage return. So an investor could buy 5% of a company's revenue for three years, or 10% of revenue capped at a 200% return on their investment.
"In equity-based financing, [investors] aren't guaranteed a return on their money unless the company is sold or offers dividends," Barnett says. "Revenue lets them get a return. It lets them really share in the incremental growth of a company as it happens."
Crowdfunder is in private beta testing right now, which will serve as a holding pattern until the Act takes effect.