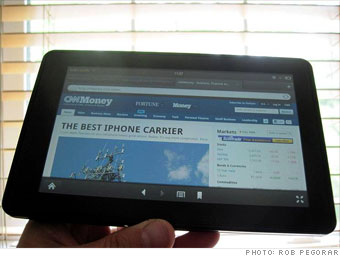 Newer 7-in. tablets are lighter than the 14-oz. Fire, but it still feels light enough to hold standing up for extended stretches.
Its touchscreen, while no match for the "retina display" of Apple's new iPad, is pleasant enough for e-book reading. But warmer weather has provided more chances to notice a quirk of that display: It doesn't just wash out in sunlight, its glossy coating also reflects too much of any brightly-lit scenery.
When I'm traveling, the Fire's use of a standard micro-USB port has freed me from worrying about packing the wrong cable -- not that it needs recharging often, thanks to its still-outstanding battery life. No such thought seems to have gone into the placement of the power button on the bottom, where it's too easy to press by mistake, or its indefensible lack of volume buttons.