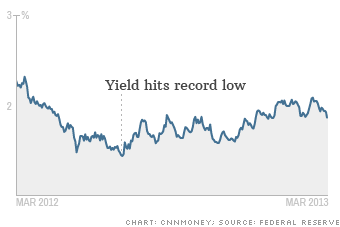 The 10-year Treasury yield has crept back up to around 2% from its record low of 1.4% last July, but don't expect yields to surge anytime soon.
As long the Federal Reserve continues to buy Treasuries -- which it will likely do until at least the middle of this year -- yields will remain under pressure, said Russ Koesterich, BlackRocks's chief investment strategist. (Bond rates fall when prices rise.) And even when the Fed does decide to end its bond buying program, it will likely do so gradually rather than suddenly.
Koesterich has a year-end rate forecast of between 2.25% and 2.5% for the 10-year Treasury, but he expects the move to be "slow and erratic."
With yields on the rise, Koesterich said Treasuries are unattractive and suggests focusing bond portfolios on high yield debt, bank loans and emerging market debt.
Bond guru Bill Gross is on the same page. He trimmed Treasury holdings in the Pimco Total Return Fund (PTTRX) last month, while favoring high yield and emerging market bonds, particularly debt issued by Mexico and Brazil.