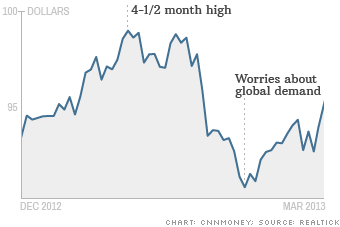 So far this year, U.S. oil prices have gained 3% on hopes the economic recovery will accelerate in the second half of 2013. But the outlook remains uncertain as the industry moves to unlock a glut of crude stockpiled around Cushing, Okla.
Analysts at Goldman Sachs say oil could rally in the short run, but expect prices to be around $97 a barrel in 12 months -- not much higher than current levels. Oil prices have also been held back by waning demand in China and other emerging markets. The recession in Europe has not helped matters either.
Meanwhile, natural gas prices have jumped 19% this year on colder-than-expected winter temperatures. The rebound comes after a five-year sell-off. Looking ahead, natural gas prices should continue to rise over the next few years as more coal-fired power plants are retired and exports to Mexico increase, according to the Goldman analysts.
These trends should ultimately reduce the surplus of natural gas in the United States, the analysts added. But they also pointed out that the "massive" potential for more shale gas production in the U.S. should boost supplies and limit how high prices can go.