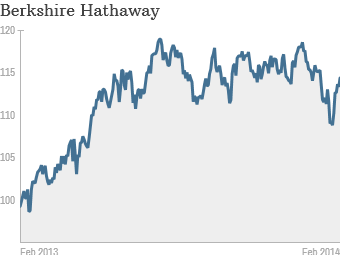 It's hard not to love Berkshire Hathaway (BRKB).
The holding company run by legendary value investor Warren Buffett has a little something for everyone.
The Omaha-based conglomerate owns insurance giant Geico and railroad Burlington Northern as well as ice cream chain Dairy Queen and underwear maker Fruit of the Loom. It also has big investments in blue chip stocks such as Wells Fargo (WFC), Coca-Cola (KO) and IBM (IBM).
And last year -- on Valentine's Day no less! -- Berkshire and a Brazilian private equity firm announced a $28 billion buyout of ketchup maker H.J. Heinz.
Related: Buffett widens lead in $1 million hedge fund bet
Berkshire's Class B shares are currently priced at about $113, down 4% for the year. But at 19 times next year's earnings estimates, shares seem reasonably valued given Buffett's track record for making well-timed investments on terms that are always favorable for shareholders.
Buffett is famous for his common sense approach to investing: Be greedy when others are fearful and fearful when others are greedy. He's also won praise for his pledge to give away almost all of his $40 billion fortune to charity.