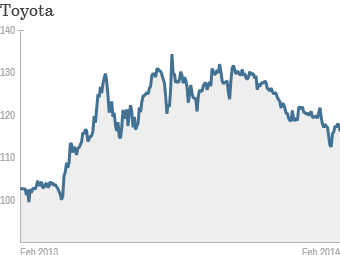 Investors' hearts are racing for Toyota (TM).
The Japanese automaker is expecting record profits of 1.9 trillion yen, or about $18 billion, for the fiscal year that ends in March.
By contrast, Ford (F) reported net income of $7.2 billion for 2013.
Toyota has benefited from the economic policies of Prime Minister Shinzo Abe, who launched a raft of stimulus measures last year. The Bank of Japan has devalued the yen, giving exporters a big advantage when overseas profits are repatriated.
This is a far cry from 2010, when Toyota recalled millions of vehicles due to safety concerns, tarnishing the company's treasured brand.
Related: Toyota's gamble on hydrogen-power
Despite strong fundamentals, the stock remains undervalued, according to analysts at Nomura Securities. Toyota's U.S. listed shares trade at just 10 times next year's earnings estimates. What's more, Toyota has been stockpiling cash, which the Nomura analysts think could allow Toyota to boost its dividend or buyback shares this year.