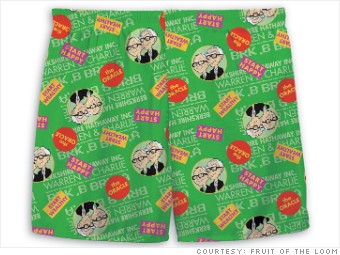 How much would you pay to have Warren Buffett cover your rear?
Shareholders in Buffett's company, Berkshire Hathaway (BRKA), will be offered a variety of Buffett-branded merchandise at the annual shareholder meeting this weekend in Omaha, including underwear.
For the second year in a row, shareholders will be able to gird their loins with boxer shorts featuring the sage of Omaha's likeness.
Fruit of the Loom has doubled its inventory of the so-called "Berky Boxer" this year after the shorts sold out in a matter of hours at last year's meeting, according to a company representative.
For just $6 a pop, the unisex Berky Boxer is a versatile garment. It's suitable for "loungewear, swimsuit cover-up and underwear."