5. Stephen Luczo
Seagate Technology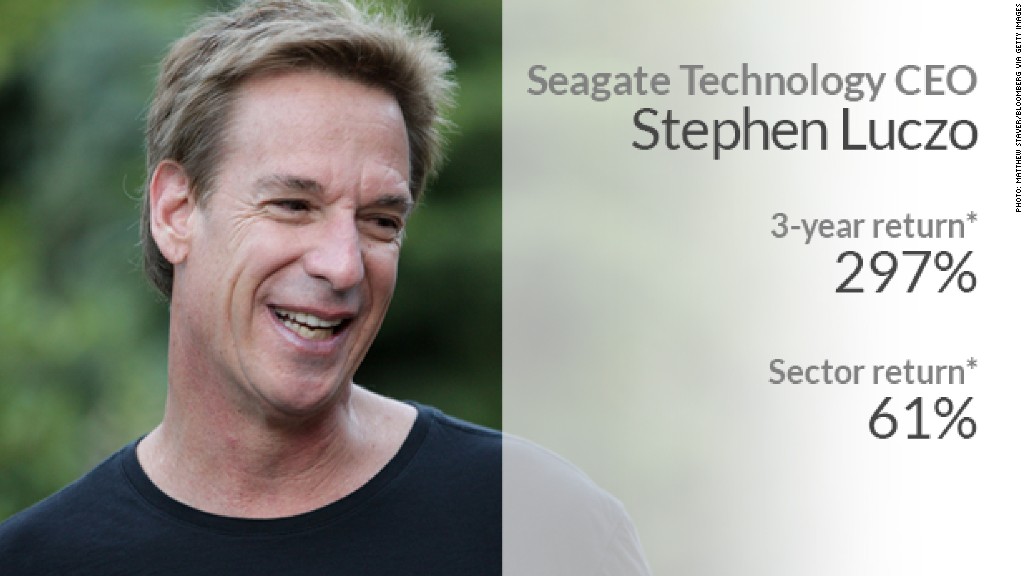 Who would have guessed that Seagate Technology (STX) would be one of the top tech stocks in the S&P 500 over the past three years?
Seagate is best known for making hard drives, which isn't exactly a booming business given the shift to smaller devices like smartphones and tablets.
Jim Chanos, the hedge fund manager best known for betting against Enron, picked Seagate as his favorite short in the hard drive business last summer. That turned out to be a mistake.
While Seagate is sporting just pedestrian gains this year, it soared in 2012 and 2013. The stock is up a whopping 297% over the past three years. Compare that to just a 61% gain for S&P 500 IT stocks.
Seagate is topped only by Micron (MU) among S&P 500 IT stocks. (Micron would be on our top-performing CEO list, but the company's CEO died in a plane accident in 2012).
Seagate CEO Stephen Luczo has led a diversification effort to move the company beyond its bread and butter of hard drives. For example, Seagate recently inked a $374 million deal to acquire rival Xyratex in an effort to strengthen its enterprise data storage offerings.
But it's clear that Luczo, who has been CEO since 2009 and is a pinball machine fanatic, sees the challenge facing the PC business. Earlier this year Luczo stepped down from Microsoft's (MSFT) board so he can focus on duties at Seagate.
First published August 11, 2014: 2:42 PM ET
Partner Offers
Paid Partner