4. John Martin
Gilead Sciences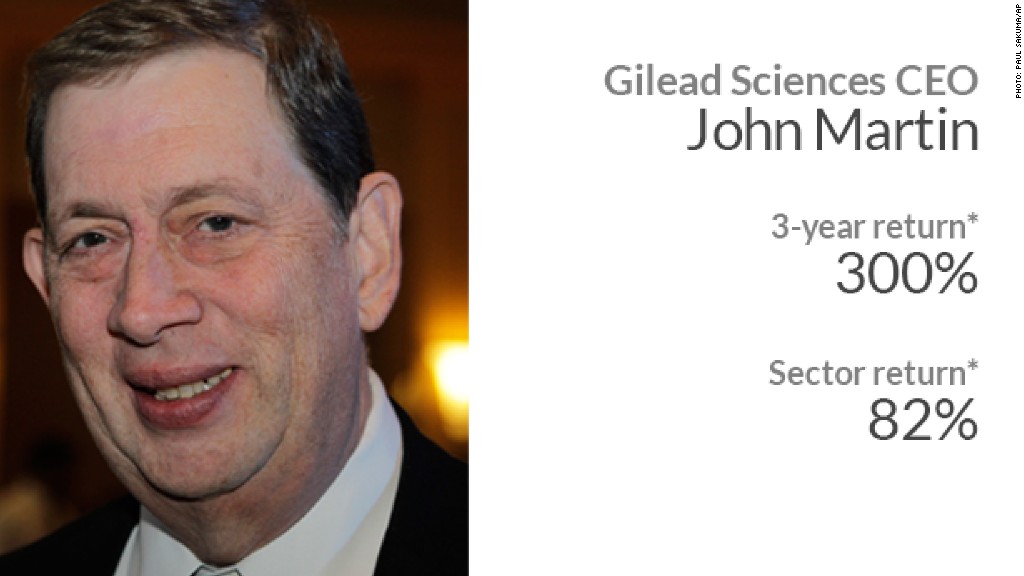 Gilead Sciences (GILD) is the 800-pound gorilla in the biotech world.
Powered by sales of HIV and hepatitis drugs, Gilead's revenue is poised to surpass $22 billion this year, up from just $8.5 billion in 2011.
Wall Street has rewarded the drug maker's explosive growth by giving it a $140 billion market cap, which isn't far from the valuations of traditional pharma power players Merck (MRK) and Pfizer (PFE).
Including dividends, Gilead's stock climbed 300% in the three years ending June 30. That means it crushed the S&P 500 health care sector's 82% advance during that period.
Those enormous returns have made John Martin, Gilead's CEO since 1996, a billionaire.
Wall Street is betting Martin's wealth will grow even more as Gilead rolls out a new hepatitis C drug that costs a whopping $1,000 per pill. The drug, Solvaldi, is expected to haul in $8.1 billion by itself next year.
First published August 11, 2014: 2:42 PM ET
Partner Offers
Paid Partner