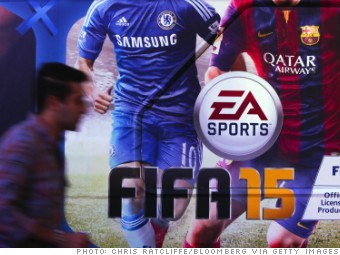 Ticker

: EA

2014 Performance

: 98%
For Electronics Arts (EA), it's all about football, baby. Madden football, that is. The latest, (and 15th) version of the hit video game came out in August, and fans flocked immediately. There was even a trending topic on Twitter, #MaddenSickDay, in which people posted phony excuses for why they couldn't go to school or work.
EA went on the social media offensive as well, promoting a video featuring comedian Kevin Hart and actor Dave Franco (brother of the more famous James) talking trash with each other. The video, called Madden Season, has been viewed over 15 million times on Youtube.
To be sure, the turf has been rough for EA in recent years. Though the company reported a nice profit in the quarter that ended September 30th, it booked a loss in the same period last year.
A big winner for EA now: mobile. The gaming giant said its mobile sports games average more than 40 million monthly active users last quarter, a 250% year-over-year boost. -- JS