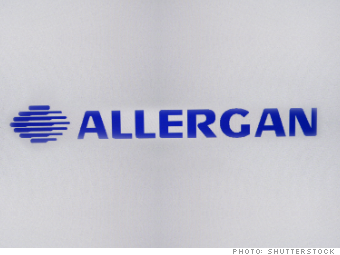 Ticker

: AGN

2014 Performance

: 88%
Investors in Botox maker Allergan (AGN) should have permanent smiles on their faces -- and not because they used the injectable facial treatment.
Allergan's stock is up nearly 90% this year thanks to a takeover soap opera.
The stock first took off in late April after rival Canadian drug maker Valeant announced a plan to buy Allergan. Valeant had the backing of hedge fund manager Bill Ackman, and both Valeant and Ackman's fund acquired a stake in Allergan.
But Allergan did not want to have anything to do with Valeant or Ackman. Allergan rejected several offers.
Still, the Valeant bid put Allergan in play. Allergan wound up agreeing to be bought in November by Actavis, another pharmaceutical company, for $66 billion. It was one of the biggest deals of the year. Valeant and Ackman dropped their takeover effort shortly after that - PRL