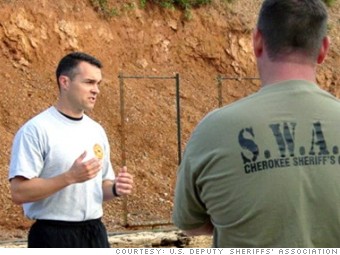 Law enforcement jobs in general come with plenty of stress. But if you're a deputy in a county sheriff's department it can be especially hard.
An erratic 24/7 schedule can disturb eating and sleeping patterns and make it hard to have a normal family life. Meanwhile, deputies deal with accidents and crimes -- often by themselves.
"You have to make split second decisions on legal matters and use of force," said Mike Willis, executive director of the United States Deputy Sheriff's Association and a deputy sheriff for eight years in Harvey County, Kan.
"You're [also] under public scrutiny. Many times, observers will take out their cell phones before they'll lift a hand to help," he said.
Pay varies widely. Even at a median of nearly $46,000, the pay may not correspond to the responsibilities deputies take on. And since most deputies are county employees, income can be quite low in poorer areas.
Do you have a stressful job that pays badly? Let us know or share it on Twitter at #stressfuljob.