3. Virginia Military Institute (VMI)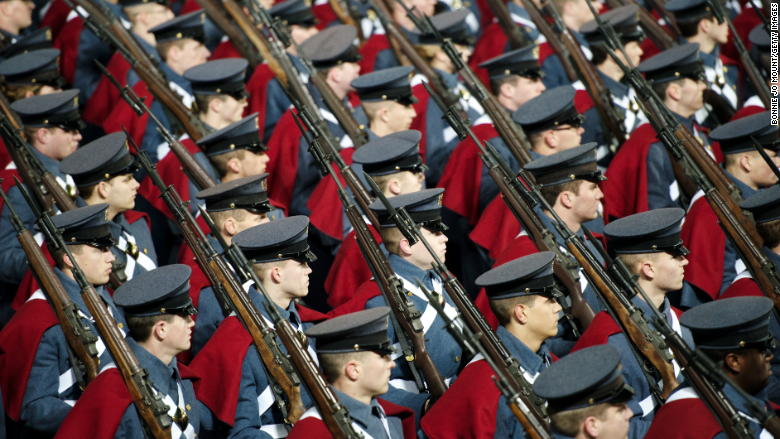 3
20-year return on investment

: $813,800

Annualized return

: 15.6%

Total 4-year cost of attendance

: $95,700
The Virginia Military Institute is the oldest state-supported military college in the U.S.
The school, which is located in historic Lexington, Va., is known for its austere living conditions and stringent regulations. A VMI education seems to pay off over time, with graduated cadets earning a 15.6% annual return on their investment -- among the highest calculated by PayScale.
VMI cadets are not required to join the military after graduation, but about half do. Most of those students complete only one tour of duty before joining the private workforce, said Communications and Marketing Director Stewart MacInnis.
The school is a liberal arts college, but it also has a very strong engineering program and post-graduation employment rates are around 95%.
"If you're able to transition military skills into the private sector, there can be some great job opportunities," said Frank.
First published March 5, 2015: 1:50 PM ET
Source:
PayScale
Based on employee survey data, PayScale calculated total median pay for a school's undergraduate alumni over a 20-year period and compared it to the median pay for a high school graduate over 24 years. The return on investment (ROI) in 2014 dollars was determined by taking the difference between those median pay figures and subtracting the in-state cost of attending the school in 2014 -- including tuition, room and board, and other costs -- and adjusting for scholarships and grants. The annualized ROI is calculated by dividing the earnings differential by the total cost and represents the percent of expected ROI received each year after graduation. Unlike in previous PayScale reports, the earnings differentials in this report do not take into account graduation rates. Alumni who attended graduate school or other higher education were excluded.
Partner Offers
Paid Partner