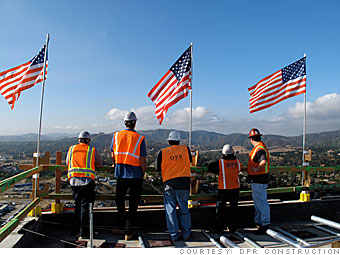 Rank:
13 (Previous rank: 22)
What makes it so great?
The construction firm wins praise for its open culture: Employees are free to attend all quarterly meetings, and workers feel listened to. Says one: "If I have a good idea, I am empowered to move it forward."
Headquarters:
1450 Veterans Blvd.
Redwood City, CA 94063
2010 revenue ($ millions):
1,432
Website:
www.dpr.com
Network with DPR Construction
Pay
Avg. annual pay*
Most common job (salaried):
Project Engineer
$73,500
Most common job (hourly):
Foreman
$79,959

| Work-life | |
| --- | --- |
| Job sharing program | No |
| Compressed workweek | Yes |
| Telecommuting | Yes |

Diversity
% minorities
19%
% women
25%
Has nondiscrimination policy
that includes sexual orientation?
Yes
Offers domestic partner benefits
for same-sex couples?
Yes

| Professional training | |
| --- | --- |
| Salaried employees (hrs./yr.): | 40 |
| Hourly employees (hrs./yr.): | 35 |

From the Feb. 6, 2012 issue