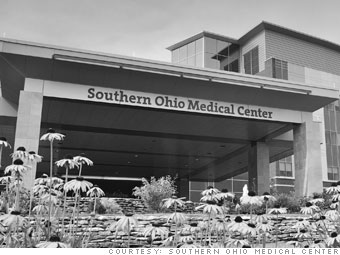 Rank:
36 (Previous rank: 36)
What makes it so great?
Here, unlike many medical facilities, housekeepers are encouraged to address patients, asking them about their needs. It speaks to the "we're all in this together" spirit that permeates the 105-year-old hospital.
Headquarters:
1805 27th Street
Portsmouth, OH 45662
2010 revenue ($ millions):
295
Website:
www.somc.org
Network with Southern Ohio Med.
Pay
Avg. annual pay*
Most common job (salaried):
Physicians
$490,647
Most common job (hourly):
Registered Nurse
$62,621

| Work-life | |
| --- | --- |
| Job sharing program | No |
| Compressed workweek | Yes |
| Telecommuting | Yes |

Diversity
% minorities
3%
% women
79%
Has nondiscrimination policy
that includes sexual orientation?
Yes
Offers domestic partner benefits
for same-sex couples?
Yes

| Professional training | |
| --- | --- |
| Salaried employees (hrs./yr.): | 23 |
| Hourly employees (hrs./yr.): | 25 |

From the Feb. 6, 2012 issue