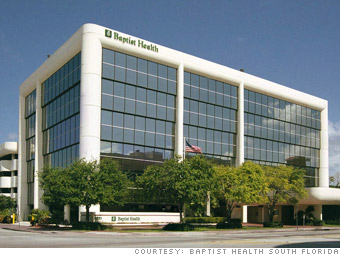 Rank:
42 (Previous rank: 42)
What makes it so great?
South Florida's largest private employer has seen its employee population nearly double in the past 15 years. Full-time voluntary turnover is just 4%; more than 1,000 employees have been here 20-plus years.
Headquarters:
6855 Red Road
Coral Gables, FL 33143
2010 revenue ($ millions):
2,200
Website:
www.baptisthealth.net
Network with Baptist Health S. Fla.
Pay
Avg. annual pay*
Most common job (salaried):
Patient Care Manager
$125,606
Most common job (hourly):
Proficient Registered Nurse
$79,951

| Work-life | |
| --- | --- |
| Job sharing program | Yes |
| Compressed workweek | Yes |
| Telecommuting | Yes |

Diversity
% minorities
72%
% women
74%
Has nondiscrimination policy
that includes sexual orientation?
Yes
Offers domestic partner benefits
for same-sex couples?
No

| Professional training | |
| --- | --- |
| Salaried employees (hrs./yr.): | 24 |
| Hourly employees (hrs./yr.): | 24 |

From the Feb. 6, 2012 issue