27 of 100
Devon Energy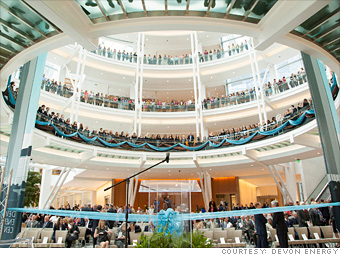 27
Rank
: 27
Previous rank
: 28
2011 revenue ($ millions)
: $11,454
What makes it so great?
Employees of the oil and gas producer value access to its senior executives. President and CEO John Richels calls employees or sends personalized notes to thank them for a job well done and regularly hosts employee luncheons.
Headquarters:
Oklahoma City, OK
Website: www.devonenergy.com
Network with Devon Energy
Employees
Employees outside U.S.
1,939
Jobs
Job openings
(as of 1/2/13)
282
Most common job (salaried):
Exploration & Production Professionals
$185,295
Most common job (hourly):
Production Operators
$69,936
Fully paid sabbaticals
No
Health
100% health-care coverage
No
Onsite fitness center
Yes
Subsidized gym membership
Yes
Diversity
Has nondiscrimination policy
that includes sexual orientation?
Yes
Offers domestic partner benefits
for same-sex couples?
No
Professional training
Salaried employees (hrs./yr.):
58
Hourly employees (hrs./yr.):
10
From the Feb. 4, 2013 issue