28 of 100
Kimpton Hotels & Restaurants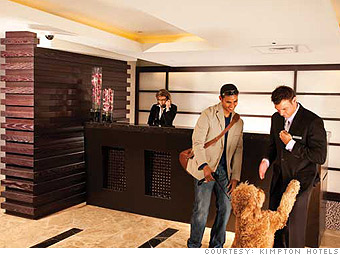 28
Rank
: 28
Previous rank
: 16
2011 revenue ($ millions)
: $905
What makes it so great?
When workers at the boutique hotel chain put in extra hours, the company sends flowers and gift baskets to their loved ones. It also hosts fireside chats with top executives and has rewarded great work with spa days, extra paid time off, and flat-screen TVs.
Headquarters:
San Francisco, CA
Website: www.kimptonhotels.com
Network with Kimpton Hotels
Jobs
Job openings
(as of 1/2/13)
152
Most common job (salaried):
General Manager
$140,548
Most common job (hourly):
Room Attendant
$30,618
Fully paid sabbaticals
Yes
Health
100% health-care coverage
No
Subsidized gym membership
Yes
Diversity
Has nondiscrimination policy
that includes sexual orientation?
Yes
Offers domestic partner benefits
for same-sex couples?
Yes
Professional training
Salaried employees (hrs./yr.):
40
Hourly employees (hrs./yr.):
40
From the Feb. 4, 2013 issue