35 of 100
National Instruments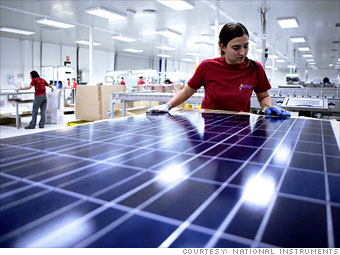 35
Rank
: 35
Previous rank
: 45
2011 revenue ($ millions)
: $1,024
What makes it so great?
This developer of test and measurement tools enjoy its sense of equality and collaboration. "My cubicle is bigger than the CEO's," gloats one. The company gym offers 16 classes a week and two sand volleyball courts.
Headquarters:
Austin, TX
Website: www.ni.com
Network with National Instruments
Employees
Employees outside U.S.
3,367
Jobs
% job growth (1 year)
12%
Job openings
(as of 1/2/13)
107
Most common job (salaried):
Software Engineer
$90,695
Most common job (hourly):
Technician
$47,810
Fully paid sabbaticals
No
Health
100% health-care coverage
No
Onsite fitness center
Yes
Subsidized gym membership
Yes
Diversity
Has nondiscrimination policy
that includes sexual orientation?
Yes
Offers domestic partner benefits
for same-sex couples?
Yes
Professional training
Salaried employees (hrs./yr.):
34
Hourly employees (hrs./yr.):
17
From the Feb. 4, 2013 issue