36 of 100
Genentech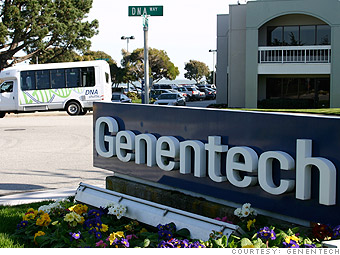 36
Rank
: 36
Previous rank
: 68
2011 revenue ($ millions)
: $13,772
What makes it so great?
This biotech firm inspires employees with tear-jerking presentations by patients whose lives have been helped by Genentech products. "There is a sense of purpose when you share clients' stories," says one employee. "We are all working toward the same goal: life."
Headquarters:
South San Francisco, CA
Website: www.gene.com
Employees
Employees outside U.S.
71
Jobs
% job growth (1 year)
-4%
Job openings
(as of 1/2/13)
685
Most common job (salaried):
Research Associate
$89,000
Most common job (hourly):
Sr. Manufacturing Technician - BioProcess
$80,000
Fully paid sabbaticals
Yes
Health
100% health-care coverage
No
Onsite fitness center
Yes
Subsidized gym membership
Yes
Diversity
Has nondiscrimination policy
that includes sexual orientation?
Yes
Offers domestic partner benefits
for same-sex couples?
Yes
Professional training
Salaried employees (hrs./yr.):
10
Hourly employees (hrs./yr.):
7
From the Feb. 4, 2013 issue