5 of 100
Wegmans Food Markets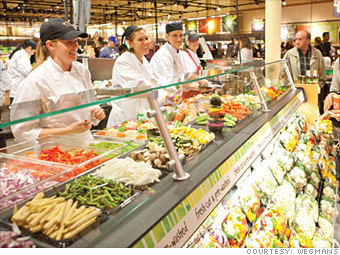 5
Rank
: 5
Previous rank
: 4
2011 revenue ($ millions)
: $6,335
What makes it so great?
Turnover is an exceptionally low 3.6% at the Northeastern grocery chain, which lets employees reward one another with gift cards for good service. Many workers like it there so much they bring in relatives—one in five employees are related.
Headquarters:
Rochester, NY
Website: www.wegmans.com
Jobs
Job openings
(as of 1/2/13)
1,400
Most common job (salaried):
Store Department Manager
$55,353
Most common job (hourly):
Store Customer Service
$29,307
Fully paid sabbaticals
No
Health
100% health-care coverage
No
Subsidized gym membership
Yes
Diversity
Has nondiscrimination policy
that includes sexual orientation?
Yes
Offers domestic partner benefits
for same-sex couples?
Yes
Professional training
Salaried employees (hrs./yr.):
65
Hourly employees (hrs./yr.):
65
From the Feb. 4, 2013 issue